As a middle-aged man I ask this same question of myself all the time. Luckily, my wife is nice enough to not bring it up so often as she might otherwise like to - which is good since this is what makes her a great wife...she lies to me (about me). And of course I know what to say when she asks that question about how she looks in those new pants she just bought too.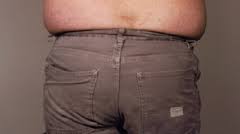 But aside from tips we all know to keep a marriage going, I get this same question a lot from bankers just in a different context.
Why am I being penalized by my Core IT vendor for growing or being bigger than others?
It was recently highlighted in the Less Burn, More Return industry study conducted by the Business Performance Innovation Network (BPI Network) - that banks and credit unions between $500M and $1 Billion in assets are paying more than their smaller cousins. In fact, the data shows that they are actually paying more for the same services, as a percentage of overall spend, than institutions larger than $1 Billion. Contracts that are restructured using actual market data - not just guessing - demonstrate consistent results in cost decrease.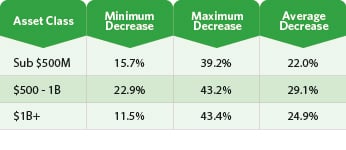 So, why so much fat in the middle?
It is hard to say exactly but after examining hundreds of institutions, the trend seems to be a combination of: A) poor vendor management and B) business distraction during high-growth periods. In other words, those institutions that can get to the middle tier ($500M - $1B) do so in rapid fashion. This rapid ascension, typically not a result of organic growth, puts strain on the operational and practical management of vendor contracts.
The bank is distracted by growth and in the process they add products, services and technology quickly, but forget to manage the vendor and validate costs. The vendor is there to "help" and feed the appetite of the fast-growing franchise...at a premium of course. When things begin to slow down and the leadership is provided an opportunity to catch their breath, they're holding a bloated contract or contracts that were never properly sized for growth years before. Not much different than putting on 2 or 3 pounds per year during your 30's, and waking up one day 25lbs over weight.
HINTS You may have a Fat Contract
(without the need for a weigh-in)
Of course, until The Paladin Blue Book came along, bankers have been at a complete disadvantage to determine just how much they should be paying for anything. Today these resources are available to check your spend versus Fair Market Value quite easily, for no cost and in short order.
However, absent an actual assessment of your situation there are a few key indicators that tell us (and should tell you) that the franchise is a high-risk candidate for having a fat contract.
Have you been with the same vendor more than 10 years?

Have you renewed more than 2 times with same vendor?

Did you sign an agreement with any vendor in the years 2008, 2009 or 2010?

Does your account rep take you to lunch often and offer free flights to user group meetings or national events?

If you answered YES to any of the first three questions - push the button above and we'll fill in the blanks for you at Paladin confidentially. If you answered YES to number 4, enjoy the free meals while they last!

END.