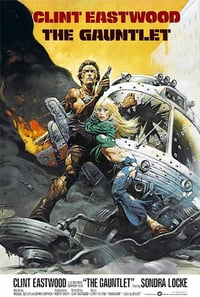 I think it may be true. Clint Eastwood has been secretly behind the physical design and layout of most banking and credit union events for years. This theory dawned on me this spring as I attended and spoke at many national and regional events all over the country. Until starting Paladin fs in 2008, I spent most of my career as your typical vendor selling IT services to bankers. Today, I spend all of my time representing bankers in difficult Core IT negotiations with their vendors (Fiserv, FIS, JHA, S1, Q2, etc). Back in the day, attending and exhibiting at events became almost obligatory if you wanted to "get noticed" or hoped for someone to buy your wares.Being stuck behind a booth in the exhibit hall next to three of your competitors with flashier pens, higher-priced golf putters is a difficult and thankless pursuit. The days are long laced with many hours of boredom while your targets attend breakout sessions or play golf. Then, two to three times a day, a stampede of bankers rushes past you to acquire coffee, food or alcohol strategically located at the other end of the hall - that reminded me of the famous 1977 Clint Eastwood movie, The Gauntlet.

The Gauntlet.
Clint Eastwood had to have planned the physical layouts adopted by most banking events today. With speaking venues to the left safely located near bathrooms, harassment by vendors is not possible. Then a safe distance from the restrooms is a "DMZ" or small hall with large open doors facing into the exhibit hall. Attendees gather en masse at the DMZ before attempting the stroll down vendor lane (safety in numbers).
In the movie Eastwood, and his cohort Sondra Locke, slowly drive their up-armored bus down Main Street. The street is lined by hundreds of police officers ready to use deadly force to get his attention. Eastwood must drive by looking through a small slit cut into a large piece of bullet proof metal. While guns are not allowed in most banking events, in order to acquire free foodstuffs, the banker must thread The Gauntlet of attention-starved vendors - risking certain dehydration or even low blood sugar jitters if he cannot make it. Few attendees have the benefit of a large bus to protect them from vendors so they must adapt. Many do well at avoiding eye-contact, dodging "hellos", or looking past your presence at some make-believe spot on the wall behind you. Some are more creative - even Thespian - employing the "Paris Hilton" (phone raised to ear having an imaginary call with your CEO). Others pair-up with colleagues, heads turned to each other shoulder-to-shoulder in quick lockstep, averting any legitimate need to look left or right. Who needs a metal plate and small slit to stay focused on the objective? Of course, there are some really brave souls who actually want to meet the vendors, hear about their products and services and genuinely take an interest in their assistance. Now, please accept my lack of PC here as I am having a little fun with the analogy. Nobody can compare a sprint to the pastry table through vendor row with the life and death struggle Eastwood and Locke portrayed in The Gauntlet, but all of us know what I'm talking about. Lighten up.
"Nag, Nag, Nag."
This famous line in the movie conveys a similar message. Bankers are tired of getting nagged by vendors and vendors are tired of being ignored. Associations believe vendors must foot the bill to make these events possible and accept the realities of potentially being marginalized if they don't have a compelling product, service or flashing pens. This is a huge risk to vendors and frankly, it may be the cost of entry in a free market. An unscientific survey of exhibitors at four major events I attended this year provided clear sentiments:
The total cost of attending association events, sponsoring or exhibiting has increased significantly.

When the total cost of the event is divided by the number of hours scheduled for real access to bankers - the $/hour has skyrocketed because organizers are cutting exhibit time and promoting leisure activites for attendees instead of promoting the vendors' products and services.

Restrictions on pre- and post- event marketing to attendees has become very restrictive, limited or even prohibited. Most all vendors lament that when their companies spend $10,000 - $20,000 or more and cannot get a simple attendee email list for marketing purposes. It makes the ROI very difficult to justify, which then lessens the relevance of associations in their marketing programs. Because vendors are marketing less through associations, and attendees are always demanding higher quality, associations increase prices for those vendors that do exhibit/sponsor, leaving the vicious circle spiraling in the wrong direction.
These anti-vendor event practices force salespeople to find anyway to impede and distract your access to the food table, while in "The Gauntlet", and worse yet are the cold calls following an event. It begs the question: if bankers don't want phone calls from vendors, wouldn't they be wise to let associations provide their email addresses since in a digital age this would be the preferred method of contact? A 'delete' of an unwanted email or a polite reply of "Thank you for your information, we are not interested at this time" is far easier than taking awkward cold-calls. When you consider that 70% - 100% of most event budgets are funded by the vendors - a rethink of the rules may be appropriate and fair. One event organizer at a major regional event confidentially told me that "...the event planning committee [made up of bankers] wanted physical layouts and agendas that made it easier to avoid vendors, limit time in the exhibit hall and increase leisure time with family or golfing."
Time for a Return to Decorum and Value.
In fairness to attendees:
Vendors and service providers have got to get better at marketing and sales. Leave the marketing gorilla in the cage and find a more refined approach to your target market without pounding them day in and day out with phone calls and voice mails. Service providers should review their decorum and sales practices to make sure the approach is respectful and mindful that while you have something to sell, they have a bank or credit union to run.

Associations must change their approach and frankly, make events more vendor-centric than they are today. Put the vendor in the middle and allow them to position their services and expertise by sitting on more panels where they can add color and content that bankers may not possess. Stop asking for everything to be "educational" - heck, everyone is selling no matter how you dress it up. If a vendor presents in the wrong "mode" and blows it, they won't be invited back next year to speak.

Increase the cost for bank and credit union attendees so that they are compelled to want to get every ounce of value from an event including talking to vendors in the exhibit hall. Higher attendee prices will limit family attendance.

Stop having events in exotic locations where all manner of distractions exist. I like Hawaii too, but exhibit halls can become a ghost town when it's a boondoggle.

Vendors don't want to fund the cost of golf outings (hole sponsors) when they only get onto foursomes with other vendors - what's the point? Instead of splitting up vendors...split up the bankers and put each of them on foursomes with at least 3 vendors. Talk about running the Gauntlet!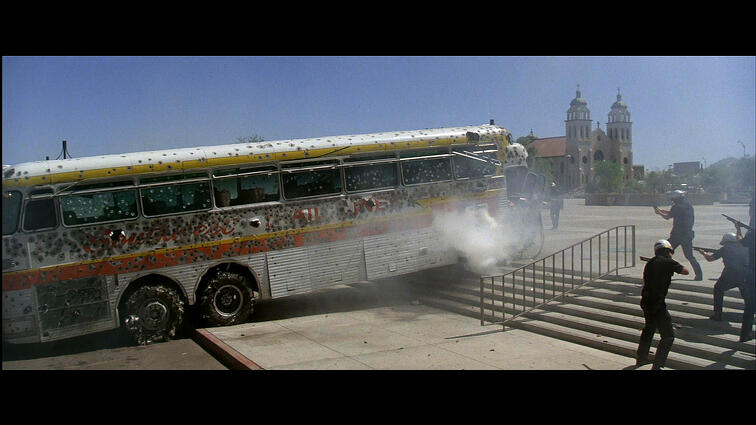 Finally, attendees should show service providers a little more love. It's a tough business - I've been there. Let them have your darn email. And when your bus makes it through The Gauntlet (hopefully in better shape than pictured above) and you find the cornucopia of food trays, pastries and coffee...put a few chocolate covered strawberries on a plate and take it to an exhibitor that paid untold thousands to stand on their feet all day waiting for you to drive by. Shake their hands and thank them for supporting your event even though you don't want to do business with them. That's decorum.
END