Earlier this year FIS announced the groundbreaking innovation of a "Simple Contract" (now renamed FIS ClearEdge) that delivers a, "...simplified pricing and contracting model for qualifying U.S. community banks and credit unions that [enables them] to bring innovative new products and services to market more quickly, control expenses, and maximize the efficiency and resiliency of their operations – better positioning them for success as the economy recovers from the current health crisis."
Paladin's expert assessment of this contract innovation is that this is nothing more than marketing spin and more of the same one-sided Core IT deal repackaged and renamed to appear to meet the ethical and professional technical standards a critical IT contract for a community bank should include. A very thin strategy designed to trap bankers into believing it is best they eat their spinach the way FIS wants to serve it to you. We have studied the template program and interviewed FIS employees to further understand the true strategy behind this announcement and other than a font change and creative makeover by an energetic legal hat inside FIS, it's the same spinach sandwich now served between two different slices of bread.
If You Enjoy Being Hogtied, You're Probably Qualified
Notice the press release says, "qualifying US institutions"? Not surprisingly, not all banks are qualified but those bankers that enjoy a weak negotiating position and little switching leverage over FIS can adopt this contract at any time. To be "qualified" you must have less than 18 months left on your agreement. By coincidence, 18 months (or less) is exactly how much time they need to make sure you don't have enough time to leave their service for a competitor if you don't like the simple deal they offer. This gives FIS the ClearEdge they want over banks.
Factually, the type of banks that may like this plan are institutions that are preparing to sell in the immediate future or that are ready to leave FIS for greener pastures because the FIS simple contract does come with no termination fees (month to month) and pre-stipulated de-conversion expense features. What is not clear is what happens if you have coasted for 4, 6 or 10 months under the simple program looking for a merger or another core option and you decide to renew with FIS for the long term. Can you negotiate your pricing and terms at that moment or are you stuck with the bundled pricing method (see below)?
Give Credit Where Due
To give credit where credit is due, FIS has been listening to how disappointed the industry is at the legacy cores with their one-sided deals, lack of innovation and strong-arm negotiating tactics. The announcement of a simple contract marries up with the desires of ABA's Principals for a Strong Bank-Core Relationships but it is unfortunately no more than lip service. If FIS' ClearEdge contract doesn't meet the ABA outline, it falls woefully short of the Golden Contract Coalition standard established in 2016. FIS ClearEdge is akin to a politicians calculation of saying what we want to hear but doing only a small fraction in order to claim victory.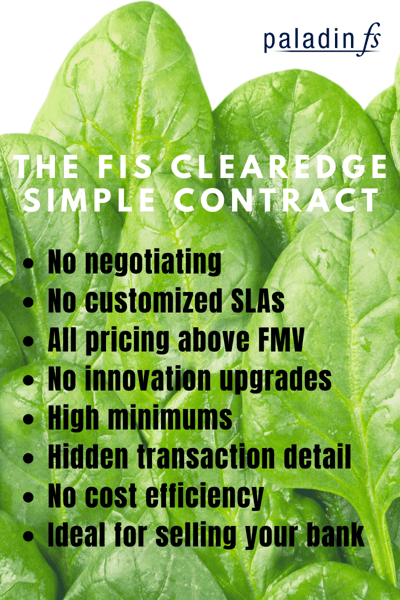 NO Negotiating Allowed!
Remember the days when Hyundai rolled out car lots where there was no haggling? Boy, those were simple days! Following the Hyundai model FIS ClearEdge offers another simple condition: YOU MAY NOT NEGOTIATE. That's simple too. For banks that are already with FIS and you wish gain a clear edge by switching to this new deal, you must continue to pay at the current rate you're paying FIS (yes, even if you are actually paying above FMV and yes, even if paying more than other competing banks using the same services). Your 18-months-or-less contract automatically renews at the current rate(s). You can't negotiate pricing, terms, conditions - nada! You must eat your deal 'as is' take it or leave it. This is a nice feature since it saves you the time needed to adjust your pesky budget to a lower number - how thoughtful of FIS! They then convert your current monthly spend into a bundled rate. No, you can't cherry pick a service you are not using or wish to use less of - it's all in the sweet spinach pie that FIS is baking for ya. However, if you want to add new services your Strategic Account Manager (SAM) will be happy to serve you up new fix-ins all day long. By the way, you can't negotiate those prices either.
Spinach Will Make Your Bank Stronger - right?
The FIS new announcement continues, "The simplified contracting model provides...greater flexibility in budgeting [Yea, right - no adjustment needed!] while experiencing less volatility to their bottom-line expenditures [What banker doesn't like improving bottom line expenditures?]. It also enables community banks and credit unions to accelerate their technology strategies [Huh? How?] with a proven, financially stable partner.
Paladin has rarely ever seen an FIS agreement that doesn't need to be dramatically improved in pricing and contract terms. The FIS ClearEdge contract is no less one-sided than the contracts offered by other legacy suppliers. I have no idea how an overpriced contract with unfavorable business terms, SLAs and legal language can, "...help banks accelerate their technology strategies." Such an odd claim to make in public. One way that banks today do accelerate technology strategies is by purchasing more. In most all of our engagements helping institutions restructure their existing Core, IT and Fintech contracts the banks will repurpose some or all of the savings toward technology procurement (on average $1.4M per deal over 5 years). If you can't negotiate with FIS then you're not going to have savings dollars to repurpose.
The FIS ClearEdge contract does nothing to improve the contractual, legal or business relationship between FIS and its banking customers. If this new contract standard is so revolutionary and beneficial to banks - why doesn't FIS retroactively apply it to all of its current clients? Nice try. No cigar.
END.