A 2nd annual report from the Business Performance and Innovation Network (BPI Network, www.bpinetwork.org) focuses again on the impact that core and IT services contracts have on community financial institutions nationwide. The 2013 report titled "Less Burn, More Return" was well received by the market and generally panned by major core service providers. The newly released 2014 report, titled "The Core Way Forward," will have a positive reception by bankers as it is a tome of informational data and analysis, never before assembled in one resource. The report includes:
The results of a comprehensive 'state of the industry' survey sent to 15,000 bank leaders.

A line-by-line analysis of 54 actual contract negotiations between bankers and vendors ranging between $150 Million to $5 Billion in assets.

Specific M&A section that details real-life examples of contracts' impact on mergers.

Insights and advice from industry experts including legal, compliance and investment bankers.

Peer reviews and commentary on their experience negotiating contracts with core services vendors.

An assessment of the impact of vendor consolidation on a bank leaders ability to negotiate a fair market value contract.
CLICK IMAGE TO READ THE NEWLY RELEASED CORE WAY FORWARD REPORT: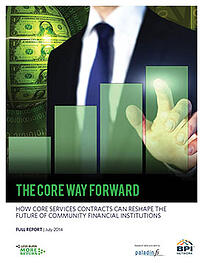 Key Takeaways from the Core Way Forward Report.
Impact on Mergers is Real. The number of mergers has grown since the Less Burn, More Return report was issued in 2013 and of those that have taken place, an ample number were tracked in BPI's, 2014 The Core Way Forward report, which allowed for actual and quantified measurements of impact. I believe, as the valuation of an institution moves away from tangible book value to profitability, we will see the entry and exit clauses of these agreements reaping havoc on M&A deals going forward unless bankers are willing to attack these agreements in advance, rather than waiting until they already have an LOI or purchase agreement working with another bank. The Core Way Forward report points out that leverage with vendors is wasted if you ask for help after word on the merger is out.
Vendor Consolidation: Vendor consolidation has turned the tables of negotiation even further against the industry. With so few vendors (the report details a total of 5, 3 of which control 85% of the market) there is little competition. Demand for core and IT services [according to BPI's survey] will increase for the foreseeable future. An oligopoly has formed and there is real concern that banks will have a difficult time getting a fair shake.
Hard Market Data Trumps: No longer can institutions go into a renewal situation with professional negotiators unless they are armed with information that can be backed up and substantiated. Very little efficiency in pricing exists, according to BPI Network, and this may be a result of vendors delivering a "get what you can" approach to pricing. Companies like Paladin, which is equipped with the Paladin Blue Book™ database, are keeping vendors fair and allowing for an introduction of favorable terms and conditions into contracts. Accomplishing these conditions is not without great amount of time, effort, finesse and experience.
Over the coming months Paladin will break apart BPI's The Core Way Forward report into small, manageable and easy-to-understand chapters. These sectionals provide education and analysis of the material, as well as additional information and insights not found in the report.
You may also find this article in the not yet published quarterly magazine from Community Banker's of Washington's. Click here to view Summer 2014s publication.