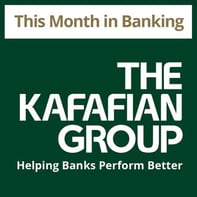 Paladin's CEO, Aaron Silva, recently had the pleasure of appearing on the This Month In Banking podcast by The Kafafian Group. Aaron and the hosts - Sharon J. Lorman, Jeffrey P. Marsico, and Gregg J. Wagner - discussed what the future of banking looks like, industry issues with the Big Three core providers, and the relationship between the two.


Here's a quick rundown of some of the topics they covered:

OPEN BANKING
Open banking is when a bank implements technology like APIs that allow other banks, financial institutions, and third-party service providers to easily access information from one another. Things like working with other institutions, core providers, and offering new services to customers would essentially be plug-and-play. One of the major challenges facing open banking is the outdated technology that legacy FinTechs are using. When most of these businesses were started, the concept of open banking didn't even exist, so open banking practices are primarily being used by newer FinTech suppliers.
APIS AND HOW THEY AFFECT COMMUNITY BANKS
An API (Application Programming Interface) is a set of programming structures that allows different applications to work seamlessly with one another. A helpful way to think about APIs is as a set of doorways. Behind every door is a set of data that other financial institutions might need access to - like an app that connects to a person's bank account to help them budget. APIs compartmentalize a bank's data, only giving third parties access to the data they need in a fast, efficient, and secure manner

FINXACT, INFOSYS, TCS, NYMBUS: WHAT MAKES THEM DIFFERENT FROM LEGACY PROVIDERS?
Finxact, Infosys, TCS, and Nymbus are newer FinTech services - companies that bring modern technology to the banking industry. They're smaller, more agile, and offer more modern features than legacy FinTech companies like the Big Three core providers

PALADIN'S VISION FOR A BETTER BANKING PLATFORM

Paladin's vision for the future of banking platforms is a democratic one, a cloud-based community core funded by an industry token (crypto). This system would put the power of core providers in the hands of the banks, who would then be able to develop them in a way that aligns with their vision.

WHAT ARE THE TOP 3 MISTAKES BANKS MAKE WHEN NEGOTIATING?
They decide to guess. Without fully researching their position or the positions of other banks to which they compete, banks enter into negotiations with core providers with a vague idea of what to actually negotiate for, an emotional negotiation.


They negotiate without data. All of the data that a bank would need to support their points during a negotiation is readily available, but banks don't put in the time to gather this data, making it impossible to credibly back up their demands.


They try to threaten their core provider. It can be tempting to threaten to take your bank's business somewhere else - especially since this negotiation tactic works in other areas of life. However, 98% of banks never switch providers, so this threat just comes across like a bluff to suppliers. The Golden Contract Coalition was created with the sole purpose of giving

the community banking and credit union industry

a fighting chance against the methods of these core providers.