Three sales reps from Fiserv, FIS and Jack Henry walk into a bar one night and belly up to the counter. The bartender says, "What would you three gentlemen like?" In unison they all answered, "A banker with less than 12 months on his contract willing to negotiate alone!"
Opening a negotiation with your Core, IT of Fintech supplier should be done so on your terms and your timeline. Until recently, this important detail has been lost on many bankers. In 2007 when we started Paladin I remember a conversation I had with a CEO of a $1B California bank as I was explaining to him the strategy of opening a negotiation versus FIS with 26 months remaining on his contract. He was unbelieving it was possible. He asked me, "If we open the contract early don't we have to pay a termination fee for the remaining 2 years?" I thought this was interesting coming from a banking professional that has spent his career refinancing all sorts of loans, early. "Do you penalize banking customers when they want to add more money to their existing loan and extend it for a few more years under different terms acceptable to the bank?" He got my point.
For decades legacy core suppliers have lulled the industry into thinking that interrupting an existing deal is touching the electric third rail and would be costly as the example above illustrated. But the fact is opening a contract early and renegotiating it is the best possible way to maintain a strong negotiating position. If you can create a 'win-win' outcome for both your bank and the vendor, its doable in 99% of the situations. However, if you are asking to lower costs, shorten the term and modify contract language and there's nothing in it for the vendor, it's a losing proposition.
WATCH: Timing is the Difference Between the Quick and the Dead
Understanding the Beast
We all wonder - Why are these damn Core IT contracts so long? 5 and 7 year deals are driven partially by vendor greed and partially because of the way revenue from public companies is reported to the market. One attractive feature about many fintechs is that they are not publicly traded and so they have more flexibility over contract term. There is no business reason why any bank should sign a 10 year IT contract or longer. CSI, Inc. [CSVI] is notorious for pushing these deals under the false pretense of trading improved pricing for a longer commitment. For them it is about valuation orchestration and maximizing a pending sale of the company. But I can get into that another time.
Early Bird Research (24-30 months from maturity)
Beginning research both internal and external on what vendor gets the next deal should feel like a Presidential election. Each vendor gets a 4 year term (the 5th year doesn't matter) and in those 4 years they need to prove themselves. About 24-30 months from maturity your bank begins to ask itself if the incumbent core supplier is the right leader for another 4 years? Are ALL of their services competitive; operating at or above SLAs; efficient and providing value to the Bank? Does it feel like the relationship is worth it considering the millions your probably will spend? Opening research with potential new suppliers can take 3-6 months in addition to talking to the incumbent about what their plans are for your bank in the next 'potential' renewal. If you play the timing right you should have completed all of your internal research, demos with 3rd party suppliers and talking to the existing partner in 3-6 months and you're now ready to open a negotiation in the Sweet Spot.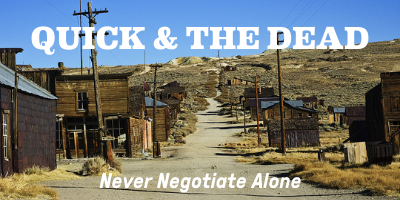 Sweet Spot Negotiations (18-24 months from maturity)
You must always open a negotiation in what we at Paladin call the "Sweet Spot" (18-24 months before maturity). This is important for many reasons. First it's about YOU. With 1.5 to 2 years remaining YOU have what is called "Switching Leverage". Simply put, it is the mutually known fact that if YOU don't like the deal you get from your incumbent supplier - YOU have time to find, select and switch to another vendor. If you used the Early Bird time wisely, you already know who the alternatives are and can open the negotiation with confidence you're not behind the eight ball. Your vendor reps are trained to RESIST an early negotiation. They will drag their feet as long as they can getting you a proposal or demo in order to get you into the sub-18 month Red Zone. Tick, tick, tick. Use the clock wisely.
Red Zone is the Dead Zone (less than 18 months from maturity)
Everyone knows it is a very disruptive and challenging exercise to switch core providers. Nobody knows this better than the core vendors themselves. If they can get your contract under the 18 month threshold the odds go way, way up they are going to keep you as a client like them or hate them. As a result your negotiating leverage erodes very quickly in the Red Zone. If you didn't start in the Early Bird phase and you slept through the Sweet Spot, you're up a creek in the Red Zone. The time it will take to learn your incumbent partner isn't going to do much for you at the next renewal and then to go out and find a competitor, demo their systems and get a comparative proposal can take 6 months to a year. If you do decide to switch it could take a year longer after that and now you are out of runway. You are behind the eight ball and you'll be forced to renew under duress.
The Auto-Renewal Scam
There is absolutely NO reason why there should be an auto-renewal clause in your agreement. There is no regulatory requirement. There is no business requirement. There is no common sense requirement for such a silly and stupid appendage to that 2 inch think core IT processing deal. The only reason it exists is so that the legacy core vendors can box you in at a later date. Vendors are trained to not discuss the auto-renewal with their banking clients. Vendors stack commissions behind the auto-renewal and so even your most honest account rep is conflicted to pay his/her mortgage or give you the heads up that a trap lays in wait. I recommend you immediately write a letter or email to your FIS, Fiserv, Jack Henry, CSI, Finastra (whomever your vendor is) representative that you wish to 'opt-out' of the auto-renewal clause in your contract. Get a confirming email and put this to bed once and for all. Never allow an auto-renewal clause to exist in any technology contract.
Getting Paladin Involved is Easy
Managing the timing of a core negotiation or selection of a new vendor for account processing or other ancillary and fintech services is one way to hold onto leverage. But you still need to know what in the heck to ask for. Bankers don't understand national pricing options and they certainly don't know what a fair contract looks like. We do. Get Paladin involved in the Early Bird phase and allow us to help you maximize your leverage, collapse vendor selection efforts and streamline the procurement process no matter if you are renewing contracts or switching suppliers. Core suppliers don't like to see the shoe on the other foot. Never negotiate alone.