The pandemic of 2020 has been a major business disruption and distraction to the community banking industry - and all industries globally for that matter. Albert Einstein was famously quoted, "In the midst of every crisis lies great opportunity." This fact is not lost on the legacy Core & IT suppliers Fiserv, FIS and Jack Henry as they have recently blanketed their current clients with pre-emptive and unsolicited contract renewals years ahead of their maturity dates. These "Pandemic Deals" as they are being referred to, are finding bankers flat-footed and making many to feel cornered into a long-term, multi-million dollar decision at a great time of uncertainty and when their collective minds are on so many other pressing matters. Bankers that have contacted Paladin feel these offers are intimidating as some vendors tease "take -it-now-or-leave-it" deals that feel more like a strong-arm tactic than a partnership hug.
Our standing Paladin fs advice on signing any of these Pandemic Deals is: NO. BE SMART.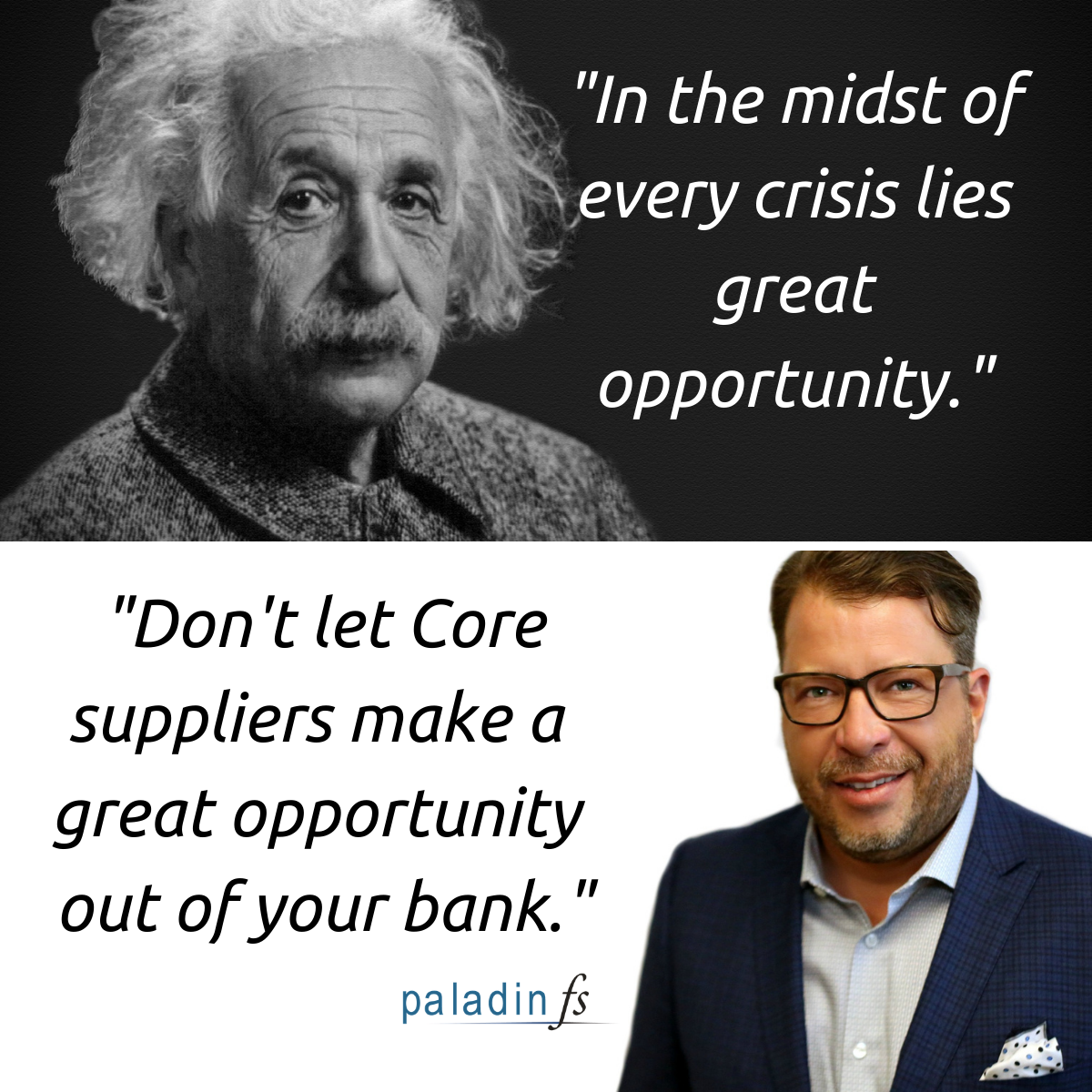 For too many decades the industry has signed these deals with the assurance of vendors that the contracts were priced right with fair terms and that many of your banking peers had signed the same deals. Only the last point was true. The market has awakened to the one-sided nature of these contracts and we're all a lot smarter for it now. Signing one of these Pandemic Deals will likely put your bank back on its heels when the entire industry is leaning forward against this sort of treatment.
Here are our reasons for NOT signing Pandemic Deals and what to do about it:
You are the economic buyer and should be in control of when and how a contract negotiation is started and concluded, not the vendor.
Anytime someone offers you an unsolicited discount or benefit, be suspicious. This defect is no different than if you are buying a carpet and the salesperson includes a 10% discount on the invoice you didn't ask request or your vendor gives you a $1,000,000 flex credit over an email.
The world has changed with the pandemic and banks can now invent and dictate new business terms, service levels and pricing programs that were not previously supported by a factual business case that didn't exist at your last renewal. Vendors won't volunteer this information. I just did.
Suppliers NEED you to extend your contract [now] more than you need it extended. Their financials will likely hit the skids in 2021. For example, Fiserv laid off thousands of employees and more RIFs are expected at FIS and JHA, all suppliers are reorganizing to survive. When they need you more than you need them this is called LEVERAGE. Come up with a plan to use the leverage for YOUR BENEFIT, not theirs.
Suppliers don't want consultants like Paladin educating bankers on what a good, fair deal looks like. Vendors hope bankers will negotiate alone and that a juicy Pandemic Deal will preempt our involvement. Bankers are smarter than that.
Accepting a discount (without comparing to national pricing data) is like buying a multi-million home without referencing Zillow, MLS or hiring an agent. Any reasonable person would not do that. As a fiduciary for your institution, you probably shouldn't do that either.
Paladin Quote Check
If you do have a proposal sitting on your desk for an ancillary service you can quickly find out how much you should be paying and under what terms by accessing our Paladin Quote Check process. Simply upload your quote and within 48 hours you'll know everything you need to know from one of our expert negotiators. No risk, no obligation and peace of mind.