I have recently been enjoying this classic TV show with my 10-year-old son. 151 more episodes to go! He is enjoying a classic show his grandparents watched at the same age, but he does not bank with a financial institution running COBOL (Common Business-Oriented Language). Some things stand the test of time. Your core processor running COBOL will not.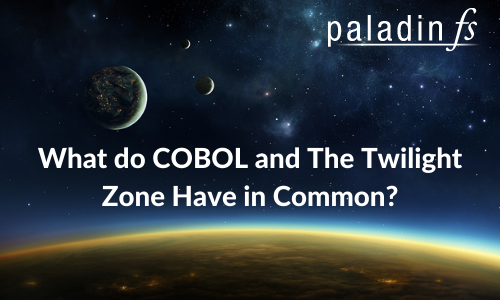 If your core processor is running COBOL under the hood or not, how you answer these questions may confirm if your data processor is holding you back:
Do you have direct, unencumbered access to your own core data?
When you want to add new products and services do you have to ask your core processor for permission, to check and see if they support this product or service?
When you have found a product that is allowed, do you have to pay thousands of dollars just to have your data pass hands?
If you answered yes to any of these questions you may need to shelve that classic core and move into the 21st century. Let us discuss your other options, but first we will take a trip down memory lane.
It is the year 1959 and COBOL, the first user-friendly business computer software program was created as part of a US Department of Defense effort to create a portable programming language for data processing. Paul Anka, Lloyd Price, and Frankie Avalon were topping the charts! The Cadillac Coupe deVille was the hottest selling car. The ballpoint pen, the seatbelt, and Mattel's Barbie doll were invented this year! The world was five years away from the British Invasion, and the three original Beatles had not yet met Ringo Starr.
If you were asked to name the Beatles greatest hits or the number of songs they recorded, could you do it? Would you be surprised to learn they recorded 227 songs? Could you also name the number of acquisitions that FIS, Fiserv, and Jack Henry have completed in the last 36 years? Probably not. It's hard to keep track, but would you be surprised to learn they've had more 'hits' than the Beatles? Or maybe misses. Depends how you look at it.
While your data processor is out acquiring new revenue streams and resources, gobbling up fintech companies and emerging opportunities, have you ever wondered why core platform has taken a back seat? Why is it your number one non-interest expense, next to payroll, gets the least amount of attention, is still running batch and hasn't had a meaningful code release in years, but the bill continues to go up?
There is a sixth dimension beyond that which is known to man. It is a dimension as vast as an Amazon data center and as timeless as Disney+. It is the middle ground between light and shadow, between science and superstition, and it lies between the pit of a bank's fear and the summit of its knowledge. This is the dimension of imagination. It is an area which we call the year 2020. How prepared are you for 2021 and beyond?
If you are serious about insulating your institution from risk, learning more about alternative product options, reducing your non-interest expense, and having a number one hit of your own, please give us a call at 877.746.4859. We would love to introduce you to alternatives to the legacy core oligopoly.