The pent up demand for an alternative, modern, competitive core to the out-dated legacy stack saddling the community financial industry today led by Fiserv, FIS, Jack Henry and their cousins at Finastra and CSI is incredible. Bankers are not only thirsty for a platform that is easy to use and easy to train their staff, they need platforms that are flexible and can be integrated easily with any number of other systems. This isn't much to ask for in the 21st century, but unfortunately the options are slim pickings and will remain that way for some time. I predict that it will be another 3-5 years (circa 2024 - 2025) before any of the new fintech cores are mature enough and exhibit the appropriate risk profile palatable for bankers to jump in. What I mean is that a rank-and-file banker is going to need to see and understand many reference-able accounts that have operated for many years successfully before they will risk their franchise. Community bank CEOs (many older and nearing retirement) are going to be risk averse even though they know a technology transformation is the key to long-term success. Regardless of their tenure, very few bankers are interested in being the 5th, 15th or 25th bank on a new, unproven core platform.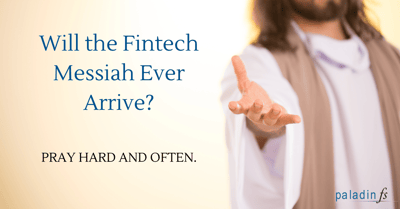 As you will read below; while there is promise with several fintech cores being created and operated by some very bright people - each one is at a very early stage in their development. Most fintech cores have the capacity to turn up maybe (maybe) 10-15 new banks in any give year. If you extrapolate that pace out into the future, the fintech cores might only have 1% - 2% of the market share by 2025. That's not going to stop the oligarchs that control more than 93% of the processing market share. The BIG THREE will be annoyed and further publicly humiliated as more and more bankers learn of the superior technology available through fintechs, but when you have that much market control - who cares? Just keep doing what you're doing. They're not a threat short term. And if and when they do become a threat - buy them.

WATCH: Will the Cloud-Based Messiah Ever Arrive?
NYMBUS Learned Quickly
For the rest of the article let's refer to these new fintech cores as Neo-Cores (new cores). There are several players on the market right now worth a look. To name a few: NYMBUS, FinXact, Neocova, Mambu appear to be making inroads very slowly. NYMBUS learned early on that the 'rip and replace' model they started in 2016 was a bit more difficult to forge because the risk of outright converting to an unproven Neo-Core was hard for many institutions to stomach. They have since moved their technology stack and business model to a lower friction model called Smart Launch. Smart Launch allows a bank to turn up a separate digital bank (same or different branding) without replacing their current legacy core. NYMBUS has added professional services so processes of turning up the digital core, payments, mobile, online services etc. and then integrating it all with the legacy stack is seamless. Marketing the newly branded services and providing customer support is completely outsourced with little capital expense up front. Pretty smart model and it demonstrates the challenges that all of the other Neo-Cores will face for some years to come if they, too, don't recalibrate their market penetration model.
FinXact In the Wings
From a pure technology stack and architecture perspective we believe FinXact (pronounced 'fin-zakt') holds out the most long term promise. They refer to themselves as a Core-as-a-Service, or a headless core that is 100% cloud native running on Amazon's AWS and API driven. Technically, you can plug any software or service from any fintech into FinXact via a truly open API and build any bank you want. FinXact has been developing its platform for years now and only as recent as September 2020 went live with its first customer and business partner Live Oak Bank ($8B). FinXact is currently kicking around in the halls of a handful or more of other institutions, but these are relatively larger franchises exceeding $15B in assets. A small bank solution is years off.
Neocova in Embryo
The most recent entrant into the market is Neocova that purportedly possesses an AI driven cloud-native core called Fineuron. They have no clients as of the date of this article that have 100% ripped out their legacy core to replace it with the Fineuron platform. Their early adopter banks are also investors in the company including Bank of St. Elizabeth, Coastal Community Bank, First Financial Bank, Kearny Bank, Provident Bancorp Inc. and Sunwest Bank all kicking in about $10M in Series A funding together. This is a very positive development. They are getting a lot of press about their aspirations and some are relating that their AI platform may be smarter and more versatile than FinXact's. This is an unknown but the fact that fintechs are already competing against each other by touting their innovation chops is a welcome change from the legacy cores who refuse to innovate except through acquisition. There is nothing to brag about technologically when it comes to FIS, Fiserv or JHAs platforms.
Nexus at the Maturity of Neo-Cores and Your Contract
If I'm right about waiting years for everything to line up (and I'll bet you $1 I am pretty close) - what is a banker supposed to do in the meantime? You can't just sit on your hands and hope for the Fintech Messiah to come along when he decides to...you've got a bank to run after all! Our advice to your bank is to begin softening the legacy contract you have today in preparation for the legacy end of days. Limit or eliminate exclusivity. Improve SLAs with strong off ramps and rights of termination. Improve pricing so your bank becomes more cost efficient as it grows. Implement APIs if you can and begin replacing ancillary suppliers piece by piece, bit by bit over the next 3-5 years. Prepare for the nexus of when the technology is market-ready and proven with your ability to legally and rightfully exit your legacy core relationship once and for all. It's a matter of survival.